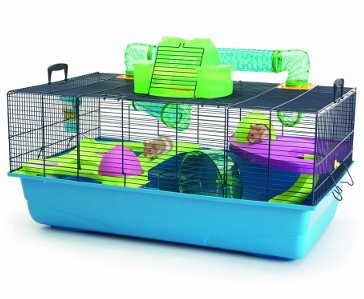 It's easy to see why the Hamster Heaven Cage (or to give it its full name, The Hamster Heaven Metro Cage) from Savic is one of the most sought after hamster cages – there aren't many hamster cages that are this big, and that come with this many extras, at this kind of price.
What you get with the Hamster Heaven Metro cage
Savic, a Belgian company, clearly set out to make the Hamster Heaven a premium cage and started with the dimensions of the cage which at a very roomy 80 x 50 x 50 cm are pretty decent when compared to most other cages of this style.
Not stopping at cage size they also added a number of cage accessories to help keep your hamster motivated and happy:
Long play tunnel
2 platforms
2 slides
2 feeding bowls
150 ml drinking bottle
Large exercise wheel with stand
Multiple houses for sleeping and relaxing (including a penthouse right on top of the cage)
Hamster toilet
A large door in the front of the cage
Hamster Heaven box contents
If you're wondering about what bits come in the box take a look at the photo below. This was taken from a pdf from Savic — it's labelled as being for US customers but it looks pretty much like the Hamster Heaven on sale in the UK:
The cage also has two carrying handles making it easier to move around the house.
metal cage top
Plastic cage bottom
Platform
Platform
Ladder
Tobogan
Protective rings
Connection rings
Squares
Feeding bowls
Hamster houses
Hamster toilet with scoop and litter
Hamster exercise wheel & stand
Hamster water bottle with holder
Hamster penthouse
Elbow parts
Large tunnel parts
Small tunnel parts
Screws
Hamster Heaven Cage assembly
With so many items in the box, at first glance it looks like it might be a tricky cage to assemble. Assembly isn't a problem for most people though as it's fairly simple and straightforward. Setting aside half an hour for assembly should be fine but if not an hour at most should do it.
You'll find a pdf of the cage assembly instructions here.
Size is everything where the Hamster Heaven is concerned
Having a hamster cage of this size means you have plenty of scope to indulge your hamster with toys and activities. It's really important for you to stimulate your hamster which will help keep him fit and healthy.
Hamsters love burrowing
Due to its height, around 38 inches (not including the tunnel and penthouse), the Hamster Heaven has a deep base which is great for hamsters that love to burrow. Burrowing is something that comes naturally to hamsters and so allowing them to give in to their natural instinct is definitely a plus.
Foraging for food
Another benefit of a base with high sides is that a deep layer of substrate will allow you to hide some of your hamsters' food so that he has to forage for it. Encouraging your hamster to forage for his food allows him to fulfil another of those basic instincts that are in his genes. This also helps him stay happy and healthy.
Room to breathe
Many cages end up feeling a bit claustrophobic by the time you've added a couple of toys or items of equipment however that's not a problem with the Hamster Heaven as there's plenty of room for chew toys as well as bigger items such as extra ladders and tunnels.
The platforms and tunnels that come with the cage are also easily moved so it's no bother for you to set things up however you think best for your hamster – after all nobody really knows him as well as you do.
To give you an idea of what could fit into your Hamster Heaven here are a couple of examples of things some people have added for their hamsters:
Getting into the Hamster Heaven
Playing with your hamster is one of the main reasons for keeping a hamster but it can be tricky to get hold of your hamster when he's scampering around the inside of his cage.
To make things a bit easier the Hamster Heaven has a large door in the side of the cage which is big enough to get both hands (unless you've got massive hands) into the cage in order to pick up your hamster easily and more importantly safely. This is especially the case if you have young children who can struggle to pick up their hamster one-handed.
Bar-chewing
It's often the case that hamsters bite their bars. Some believe bar-chewing is a sign that your hamster is bored or feeling confined but many Hamster Heaven owners report that bar-chewing is not particularly a problem. With a cage of this size providing so much space for toys you shouldn't find bar-chewing through boredom is a problem.
So you can see that size-wise it's a great cage and your hamster will really appreciate all the living space you're going to give him, but what about the practicalities of cleaning the cage out.
Cleaning the Hamster Heaven
It's a fact that it's usually us parents that end up with the less fun job of being chief cage-cleaner, especially if you have younger children, so is it going to be tricky and time-consuming?
And the answer seems to be that cleaning is not going to be too much of a chore at all.
It's easy to move the cage to a place that will make cleaning easier – like the kitchen. The cage has two carrying handles, one at each end of the Hamster Heaven, which will allow you to easily pick it up and move it.
Once you've moved it somewhere sensible for cleaning the top wire part of the cage simply unclips from the base via two large clips, again, one at either end of the cage.
The items inside the cage are mostly secured by clips and are also easy to remove.
Tunnels can often be a bit fiddly to take apart and clean but that's the case with most tunnels regardless of manufacturer.
Tunnel blanking plates
Some hamsters like to go to the toilet in their tunnels and if yours does, and you get fed up with cleaning, you can completely remove the tunnel from the top of the cage and block it off using the special blanking plates supplied with the cage. If you do there's plenty of other things for your hamster to find to do in the Hamster Heaven, so don't worry.
With a floor area of approximately 4,000 cm2 the Savic Hamster Heaven allows you to add toys and exercise equipment so you can make sure your hamster stays fit & healthy. The gap between the bars is 11 mm which is fine for a Syrian hamster but please note the bar gap is too big for dwarf hamsters — if you need a cage suitable for a dwarf hamster you should check the list of dwarf hamster cages.
The Hamster Heaven is almost perfect
The Hamster Heaven does look like a really great cage but it's not perfect in every way — no cage is! Looking through the reviews you'll see there are a few 4-star reviews and at least one 1-star review, so what's the problem?
One reviewer is of the opinion that the supplied accessories are a bit on the small side for a larger Syrian and took up quite a lot of space in the cage but this problem was easily overcome by removing the accessories from the cage.
Another problem noted was that the supplied water bottle leaks. Most water bottles (from all suppliers) can have the potential to leak. Leaking can be minimised by making sure that when you fill the bottle you fill it all the way to the top making sure you get all of the air bubbles out of the bottle.
Not too bad after all then really — it's still a great cage!
What others say about the Hamster Heaven
At the time of writing the Savic Hamster Heaven has 74 (out of 113) 5 star reviews at Amazon. The following is an example of just a few of the comments from people that have bought this cage:
'Nice, Large Sturdy cage but not so keen on the accessories'
'Heaven is a place on earth at least for my hamster'
'Amazing cage For Syrian hamster.'
'one of the best cages on the market'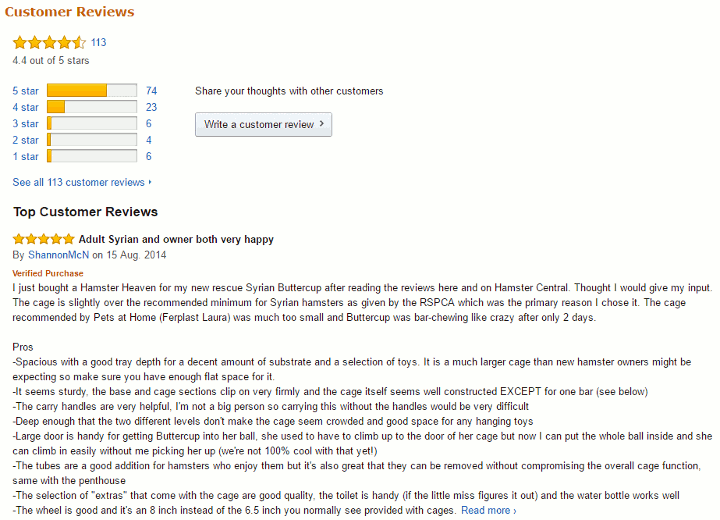 Video review of the Hamster Heaven cage