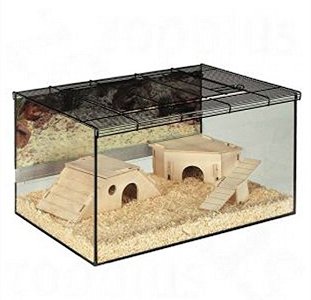 For Dwarf or Syrian hamsters
Both is the answer to that question. The only limiting factor is the size of the gap between the bars in the lid of this glass hamster cage which in this case is just 0.7 cm which will prevent even dwarf hamsters from escaping from this glass hamster cage.
How big is it
This cage is not the largest of glass hamster cages but it's pretty roomy nonetheless. With dimensions of Height 37 cm, Depth 45 cm and Width 75 cm it provides a floor area of 3,375 cm2 which is the same size as the Falco Small Pet Cage Medium, another glass hamster cage, but Small Pet Terrarium Kerry actually costs a fair bit less. You should note though that The Falco Small Pet range have a glass cage on the bottom but then have a large mesh cage on top.
Naturally being a glass hamster cage it allows you to provide a good deep layer of substrate in the bottom of the cage so that your hamster has ample opportunity for burrowing - particularly relevant for dwarf hamsters.
What's it come with
You'll get a few freebies with this cage:
Wooden corner cabin
Wooden trapezoidal climbing house
Wooden seesaw
Poster for the wall at the back of the cage
Easy to keep clean
As it's a glass hamster cage it's fairly easy to give it the once over as you don't have to contend with nooks and crannies or plastic irregularly shaped shelving units etc.
The other main benefit of a glass hamster cage is that your hamsters won't be able to kick any of their bedding out of the cage which leaves one less job for you to do.